Released On 28th Oct 2015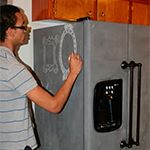 At Ransom Spares, we're big fans of people making the most of what they already have, rather than throwing things away. And whilst our 'repair not replace' ethos usually refers to broken down appliances, it also rings true when it comes to appliances that are simply looking a little tired.
Let's face it – a yellowing fridge doesn't make a particularly attractive addition to your home, and it can be tempting to invest in a shiny new model. But before you start browsing for a replacement, here are six innovative (and DIY) ways to give your appliance a makeover.