Expert Henry Hoover Repair Tips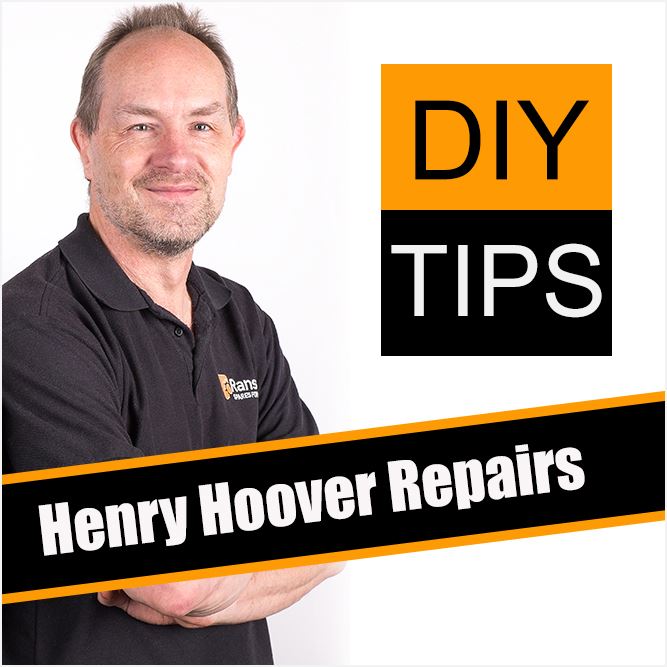 We've all been there – you go to hoover a floor and your vacuum cleaner, which was completely fine last time you used it, stops working. Typical.
If your Henry Hoover has seen better days it can be tempting to simply throw it in the bin. But wait – with some expert advice from Ransom Spares' appliance gods, Kevin and Tony, you can fix most common problems yourself.
They've been pretty busy this month trying to invent a washing machine that can also dispense snacks. But they're never too busy to help rid the world of appliance woes.
Here are their expert Henry Hoover repair tips.
---
Check the bag, filters, hose and extension tube if Henry loses suction.
If your Henry Hoover has lost suction it could be due to a number of issues. Although it sounds obvious, the first thing to do is check that the bag isn't full, as this will result in the hoover not picking dirt up as effectively.
Next, check that the filters haven't become clogged up. If they're dirty, you can wash them before leaving them to dry for around 24 hours, or you can replace them.
You should also check for blockages in the hose or extension tube, as well as checking for any gaps in the airflow – this can occur when the plastic in the hose degrades.
---
Check the plug and copper contacts on the cable reel moulding if Henry is working intermittently.
A common problem with Henry vacuum cleaners is the appliance running intermittently. If your hoover is cutting out when you move the cable where it attaches to the plug, then you'll need to check the connections in the plug.
If this isn't the cause of the issue and there are no obvious clues, it's likely to be due to the copper contacts on the cable reel moulding. Watch our video on how to replace the copper contacts and cable reel moulding here.
---
Check the on/off switch, cord and motor if Henry won't start
Has your Henry hoover stopped working or refused to start at all? It might sound simple but the first thing to do is check the power and that the cord is properly connected to the vacuum cleaner – it's then a good idea to check the fuse and connections in the plug.
If that doesn't work, other common causes include:
In some cases, the problem can also be due to a faulty motor. A faulty motor can be caused by another issue such as a blocked filter, overfull bag or worn carbon brushes. If your carbon brushes are worn they'll need to be replaced – you can find out how to replace the carbon brushes here.
---
Check the bag, filters, hose and attachments if Henry smells.
A pongy Henry Hoover is a common problem. If your appliance smells, the first thing to do is check the bag. Everything from food to animal hair can end up in there, so it's no wonder it doesn't always smell too fresh! Watch our video on replacing a Henry Hoover bag here.
If that doesn't work, take a look at the filters – if they're dirty it could be the cause of the issue. You can either wash the filters in a mixture of baking soda and water, or replace them if they're beyond repair.
Finally, check the hose and attachments for blockages. A trapped piece of food could end up making the hoover smell. You can also leave the hose and attachments to soak overnight.
---
There's nothing more frustrating than a broken down Henry Hoover. However, these expert repair tips should help you to tackle the majority of common problems. Find all of the Henry Hoover spare parts you could need or visit our vacuum cleaner advice page for help with a specific problem.
Category: Articles, News & Tips