5 of Our Favourite DIY Bloggers
Here at Ransom Spares, we're huge advocates of a 'make and mend culture'. Often a spare part is all it takes to repair a faulty appliance – and fixing it yourself is kinder to the environment and more cost effective than throwing it away.
Our enthusiasm for DIY, however, stretches further than appliance repair. From re-using everyday household objects to giving old furniture a new lease of life, we want everybody to make more of what they've already got.
If you're thinking about getting handier around the house, DIY blogs can be a great source of inspiration. Here are five we're currently reading.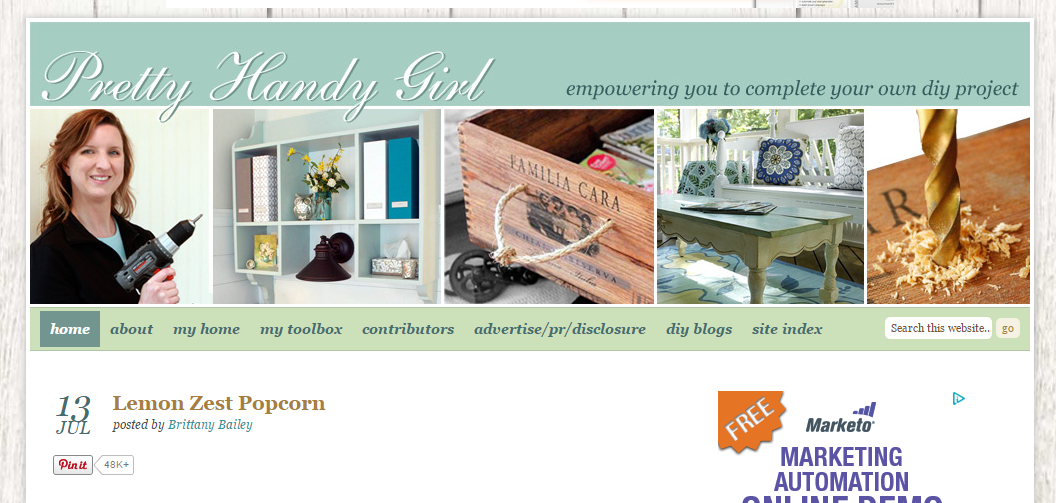 Pretty Handy Girl
Pretty Handy Girl is a blog by Brittany Bailey, aimed at, '….anyone who wishes they were handy and could make their own repairs, upgrades or become a true do-it-yourselfer'.
Brittany's first foray into DIY was over 20 years ago, when she stained a small cabinet in her apartment. "Little did I know that you shouldn't use oil-based stain in a closed room with a gas stove nearby", she says. "I smelled gas shortly after my first DIY project and called the fire department. Let's just say that although my DIY project was a success, I learned a lot that day!"
Today, Pretty Handy Girl is a great resource for anyone looking for DIY inspiration, with a range of detailed tutorials on home improvement, home repair, décor and crafts.
---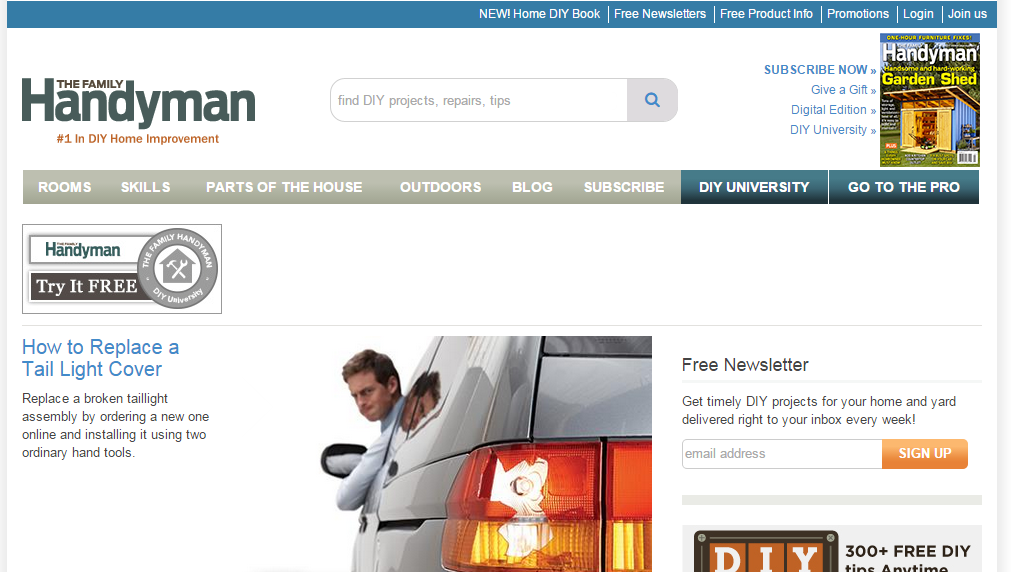 The Family Handyman
The Family Handyman
If you're looking for accurate how-to instructions for doing up your home, The Family Handy Man should be your first port of call. Each part of the house is broken down into a huge number of projects, ranging from 'How to Make a Skylight Leakproof' to 'How to Fix Squeaky Floors'.
Projects are also grouped by skills such as 'cleaning' and 'plumbing', as well as by room. You can even attend DIY University – an online course which helps you learn how to repair and improve your home.
---
The Ugly Duckling
The Ugly Duckling House is a blog by Sarah Fogle, which focusses on her 'DIY-misadventures' remodelling her home. From ripping out carpets to caulking windows, the site allows readers to benefit from the knowledge that Sarah has picked up along the way – as well as showcasing the house's stunning transformation.
Fortunately, none of Sarah's DIY misadventures have been too disastrous. "It's going to sound cheesy, but usually my biggest mistake in DIY is either not doing enough research or simply not even giving DIY a shot", she says. "Don't count yourself short and see if the project really is as "impossible" as it seems. You might be surprised at what you can do in an afternoon with enough determination!"
---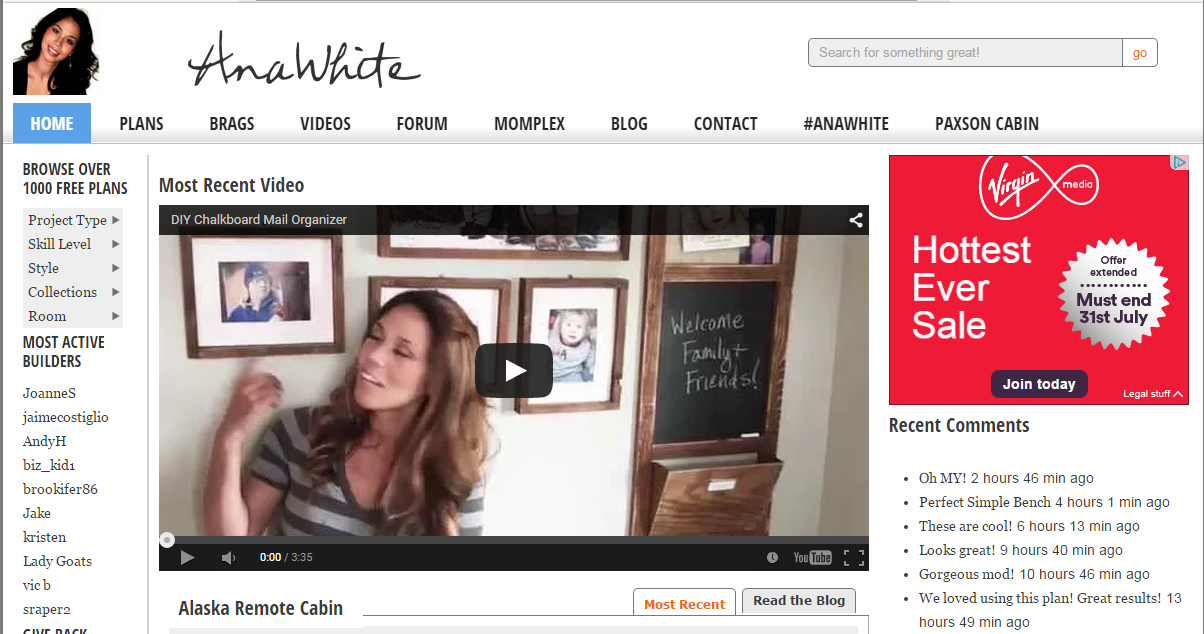 Ana White
A blog by Ana White, ana-white.com is a great resource for anyone looking for free furniture plans. From tables to bookshelves, all of the woodworking plans offer detailed step-by-step instructions and photos, alongside helpful diagrams.
The site is also a great community for DIY enthusiasts, with an active forum and 'Brags' section where readers can share projects they're proud of.
---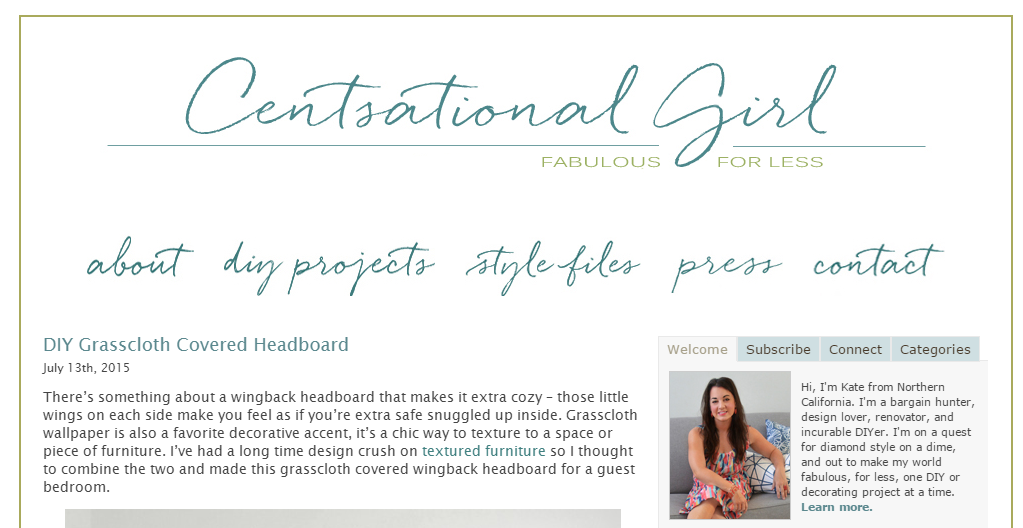 Centsational Girl
Centsational Girl is a blog by Kate Riley, a self-confessed 'incurable DIY-er'.From furniture makeovers to more serious home improvements, the site aims to help readers transform their home 'for less'.
The 'Furniture Makeovers' section, in particular, is packed with great ideas, including chair re-upholstery and re-painting tips.
---
If you're looking to become handier around the house and repair or update items you've already got, DIY-blogs can be a great source of inspiration.
These are some of our favourite DIY blogs – but what are yours? Let us know in the comments.
Category: Articles, News & Tips