Fridge Freezer Repair Blogs: How Tos, Help & Advice
Released On 19th May 2015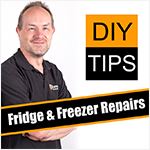 Is your fridge or freezer too warm? Freezing shut? Smelly? As the vessel that holds all of your food, a fully-functioning fridge is very important – especially to those of us who can't get enough of eating.
There's nothing more frustrating than discovering your food has been ruined, or having to cope with the inconvenience of water all over the floor.
But don't worry – Kevin and Tony, the Ransom Spares appliance repair experts are back. They've been pretty busy over the last week inventing a toaster that also works as a kettle. However, they worked late into the night to provide you with some expert advice for DIY fridge and freezer repairs.
Feast your eyes on their 10 top tips.
Tags: Fridge Freezer Blogs