How to Maintain your Fridge Freezer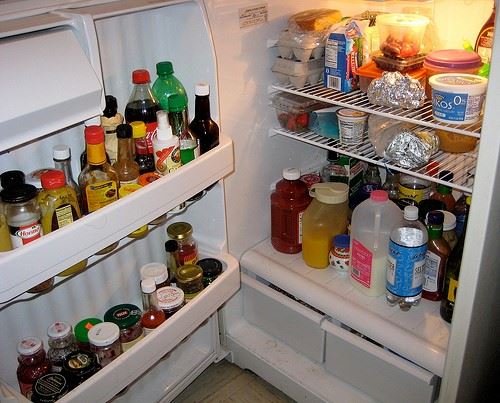 Image by Philip Brewer
Domestic appliances have transformed the way we live our daily lives – none more so than the fridge freezer.
Without these towering bastions of uber coolness, our cabbages would wilt, the butter would melt, and that four-pint gold top would curdle.
It's an astonishing fact that the average household forks out around £480 on food that ultimately ends up in the bin.
In practical and financial terms this is just wanton and unnecessary profligacy, so making your weekly Asda purchases last longer in your fridge is a good start to reducing the amount of food that goes to waste.
Here are a few pragmatic pointers to making the most out of you fridge freezer and extending the life of your groceries.
---
Keeping food fresh and cool
Keeping food chilled prevents harmful bacteria - such as listeria and salmonella – from burgeoning to dangerous levels and causing food poisoning. Chilling also slows the natural deterioration of fresh meat, fish and fruit and vegetables – meaning they'll last days longer than they would if you stored them at room temperature.
Your fridge should be no more than +5C in its coldest part, and the freezer should be between minus 18C – 22C.
---
Food storage tips
Storing your food properly in your fridge freezer will help give your groceries their best possible shelf life.
Top shelf
This is the warmest part of the fridge and best for storing pre-prepared foods such as sauces, cheeses and yoghurts. If you're going to store cooked meats and leftovers put it in stored containers on the shelves underneath. Store milk there too if you've got enough space – storing a pint of cow's juice actually exposes it to more warm air every time you open the fridge door.
Bottom shelf
This is the coldest part of the fridge so stored fish, poultry and raw meat here in sealed packaging. Alternatively pop them into sealed containers and store on the bottom shelf. There's also less risk of unpleasant raw meat or fish juices dripping onto ready-to-eat foods.
Salad drawer
Fruit and veg are also best stored in the salad crisper drawer, some of which have humidity controls to retain moisture and will help other vegetables – cucumber, carrots, lettuce – last longer.
Door racks
This is one of the most exposed areas of the fridge because the door is constantly being opened and exposing the fridge to warm air. Fruit juice, condiments, jam and eggs are good for storing in door racks. The lidded compartment is perfect for keeping margarine and butter and cold.
---
Well stocked or overcrowded?
A well-stocked freezer is more energy efficient but an over-packed fridge isn't as it requires a good, free-flowing circulation of air. Don't overload the fridge so it won't have to work extra hard to keep the temperature down.
---
It's all about location
The whole point of a fridge freezer is that it's supposed to keep food cold, so help it work at its most efficient and don't place it too close to any heat sources, such as cookers or radiators. Make sure you provide enough space between the appliance and the wall to ensure there's plenty of air to circulate around it.
And whilst we're on the subject of keeping things cool, try not to keep the door open any longer than you need to – it takes three to four minutes for a fridge to return to its original cool temperature.
---
Defrosting
Nobody likes the time-consuming chore of defrosting, but by doing it, you'll both increase the freezer's capacity as well as making it more energy efficient. Not all fridge freezers have an auto defrost, so if yours doesn't then keep your eye out for excessive frost build-up – general rule of thumb is to defrost if it's carrying more than 3-4cm of ice.
---
Unpleasant odours
Prevent the risk of your fridge incubating any strange smells by cleaning the internal and external surfaces regularly with disinfecting all-purpose cleaner. If any dubious pongs linger, wash with a solution of warm water and bicarbonate of soda (15ml to 1 litre) and dry thoroughly. Alternatively, leaving half a lemon in the fridge is an effective way to neutralize suspicious whiffs.
---
A few other handy hints:
Keep eggs in the box so you can keep an eye on the 'use by' date, unless they're date stamped individually
Cover leftovers and eat them within two days
Don't keep open cans in the fridge – transfer the contents into a storage container or covered bowl and use them within two days
Never put hot food in the fridge as you're using up more energy and making it work harder than it needs to
Use proper freezer storage containers and label all food packaging and containers with the date of cooking and use-by dates
Of course, despite contemporary appliances being built for robustness and reliability, there are times when they'll break down. If you're struck by such a domestic dilemma, take comfort in the fact Ransom Spares has a huge range of fridge and freezer spare parts.
By Lee Gilbert
Category: Articles, News & Tips