How to Reduce Your Carbon Footprint in the Garden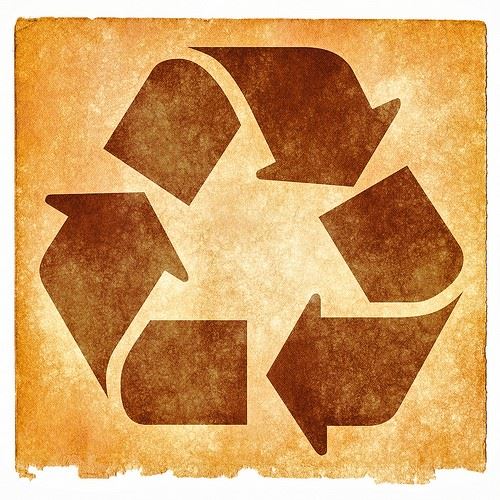 Image by Nicolas Raymond
We all know how important it is to reduce our carbon footprint. Barely a day goes by without a politician bleating on about it, another government quango being created for it, or some middle-class yummy-mummy casting scornful looks of approbation because you aren't doing it.
We've all heard the hints and tips a hundred times too: fit LED lights, use a programmable thermostat, and wash your clothes in cold water. Good advice to save energy and money and reduce your climate impact – inside the house. But what can you do to reduce your carbon emissions OUTSIDE the home, namely in the garden?
Well, lots actually. So pay attention, fellow urbanites. Here's how you can do just that and live an environmentally aware lifestyle.
---
Recycle
Just because you might not have a lot of space, don't let that be a reason – or excuse – for not doing your bit. You could use a corner space to build timber housing to store your recycling bins. The net result is that your garden looks tidy and attractive. Win win.
Or why not give your garden shed a new lease of life and transform it into a mini recycling plant as it can be a great place to store recycling boxes. Separate materials – glass, paper, tin, plastics and aluminium. By doing this you'll also free up plenty of space inside the home.
---
Save Water
More than two days of the sun in the UK usually results in government water shortage warnings and hosepipe bans. Seriously though, if you've got a water sprinkler then forget about using it on your lawn as it's wasteful. Generations have made do with hand-held watering can and it does just as efficacious a job. You could also install water butts to collect rainwater from the garage, shed and house roof and reuse it to give your lawn a drop or two of much-needed liquid refreshment.
Paving, decking and patios get dirty easily and relatively quickly – but say goodbye to the house and splash some garden cleaner in a bucket of water, or decant into a power sprayer, and apply to the surface. It's just as effective and uses a lot less water.
Also, keep an eye for garden cleaner that's free from bleach and acid and ones which remove algae and mould and prevent re-growth for up to six months.
---
Eco-friendly products
Exterior wood in the garden is notoriously tricky to maintain as it can easily be affected by weather damage and look unsightly, so it's important to care for it. Nevertheless, don't let the environment take a back seat.
You can protect shed, fences and timber furniture with wood care products that are low in petro chemicals and volatile organic compounds (VOCs). Some products on the market are extremely high performance which means the lifespan of the wood will be considerably and noticeably longer.
Some manufacturers even make a contribution to the Woodland Trust to help protect native UK woodland.
---
Trees
One of the best ways to help reduce global warming is plant trees as they absorb a considerable amount of carbon over their lifespan. Granted, the average urban garden doesn't have acres of space, so larger trees – Beeches and Oaks, for example – aren't feasible or practical.
You could, however, opt for something like Silver Birch or Hawthorn, as these are small native trees that cultivate well. They're robust and hardy too, which means they'll grow in most conditions. And because they don't take up a huge amount of room and have small leaves, they let grass and other plants grow underneath.
---
Make Your Garden Do the Work – Growing Your Own
With the proliferation of supermarkets, buying fruit and vegetables has never been easier. If we want a handful of fresh carrots and a football-sized cauliflower we just pop over to the local Asda, right?
Well, yes – but why not have a crack at growing your own? For starters, it's not that difficult, plus you don't really need to be Monty Don to grow a few tomatoes and a cucumber.
In fact, growing your own and going organic has undergone something of a renaissance of late. There has also been a resurgence of interest in people taking on allotments to reap the personal, financial, and health rewards of pulling their home-grown fruit and veg from the moist soil.
Growing your own also reduces the amount of grass and reduces food miles (the distance the food has travelled from its original location to the supermarket). As a result, carbon emissions are reduced – as is your grocery bill (and during these frugal times of belt-tightening, who can argue with that?).
What you want, when you want
And it doesn't stop there. Just think, you can grow whatever you want as long it will grow in the climate, plus it's fresh, seasonal food plucked literally straight from the garden. You know exactly how it's been grown, without a question mark hovering over your head as to what dubious, potentially toxic chemicals have been sprayed on to it. Just a little planning and you can have fresh vegetable, in season, ready for pulling, picking and plucking all year round.
Just build some raised beds and fill them with good soil and you're ready to plant – just make sure you weed regularly.
It will take time and hard work, of course, but the rewards will outweigh the labour.
---
Composting
Every garden needs nutrients and compost is the perfect way to supply them. It's also an effective way to cut down on any superfluous waste. Whenever we put organic matter such as vegetable peelings in the bin it ends up going to landfill which produces methane and CO2 and accumulatively disperses greenhouse gases into the atmosphere.
Compositing therefore not only helps produce flowers and vegetables, but also actively reduces your carbon footprint. And because anything organic can go in to it, a lot of household waste – particularly from the kitchen – can be eliminated.
How to do it…
Buy a compost bin or make your own, throwing in raked leaves, lawn clippings and anything that's biodegradable. Add some torn newspaper or cardboard so it doesn't get too wet. It's probably a good idea to mix it periodically with a fork. If the balance is right then the compost won't produce any methane and heat generated from the compost will break down the material.
Having usable compost can take up to a year, but keep adding to it to keep the supply topped up – your persistence will pay off, and you'll be doing your bit to save the planet and reduce carbon emissions.
Ransom Spares has a huge range of garden machinery spare parts.
By Lee Gilbert
Category: Articles, News & Tips