Sun, Seeds & Sizzling Sausages: The Gardener's Guide to Summer Maintenance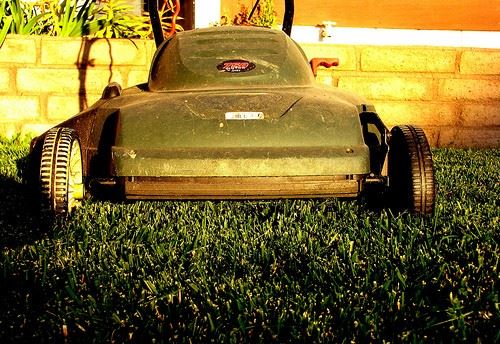 Image by Rennett Stowe
Summer heralds the arrival of many great British traditions: soaking up the rays on the patio, excessive ice-cream consumption, endless visits to the seaside, knotted handkerchiefs tied round the head and, for the less fortunate, rampant bouts of hay fever.
But summer is also the perfect time to tend to a few garden chores. Alan Titchmarsh and Monty Don are all well and good, but they're not going to pop over with a shovel and wheelbarrow and do all the hard work for you.
So, take heed of these practical words of wisdom to transform your favourite green space into an area of outstanding verdant beauty.
---
Maintain the Lawn
The lawn will experience a growth spurt during the summer months, so it's imperative that you keep on top of it by ensuring it's well-maintained. Mowing it regularly – every other week – will keep it in good and gloriously green shape.
If it's been a while since you last mowed and your lawn's resembling the arboreal depths of the Peruvian jungle, start with a long mow cut, so the grass doesn't dry out and go brown. Give it another once-over a week later to level it out.
Be sure to dig up any weeds too, because if they're left, they'll self-seed and be twice as difficult to deal with next year. Also, don't forget to feed your lawn and add grass seed to any unsightly bare patches. In particularly dry periods, make sure you keep your lawn well-watered to avoid it turning brown and scorching.
---
Weed Out Those Weeds
The lawn, plants and flowers will flourish during the summer – but so will weeds. Stay on top of any unruly and itinerant weeds, as they can constrict plants and flowers and prevent them from growing properly.
Use a hoe to banish those smaller, trickier weeds that are nestling amongst the beds and borders.
And if you're using weed-killer, use it sparingly and use a bio-degradable brand that's environmentally friendly and won't harm pets.
---
Scrub the Paths, Patios and Decking
When the weather's good, you're going to use the paths, patios and decking as much as possible, so it's wise to give them all a thorough and vigorous scrubbing.
Proper patio and decking cleaner will remove all the moss, dirt and algae that have been accumulating over the past year – and the powerful blast of a high pressure washer, with a special cleaning attachment, will bid farewell to any unwelcome grime.
It's not uncommon for small plants and weeds to pop up amongst cracks, so a plentiful sprinkling of weed-killer will kill them off.
When you've given these surfaces a thorough clean, you'll be amazed at how spic 'n span your garden will appear.
---
Deadhead and Feed Flowers
Lots of container and bedding plants will have seen the vibrant first flush of flowers, so make your flowers last longer and encourage second blooms by deadheading all the dead flowers.
Summer's also the ideal time to feed them well for the second bloom of flowers. Keep those flowers and shrubs well-fed throughout flowering season, generally every 3-4 weeks, although you should always check the instructions on your plant food.
---
Hanging Baskets: A Quick, Effective Fix
Popping up a few hanging baskets and containers around the garden, patio and decking is a quick but effective way to liven up a garden that's looking somewhat naked of plants and foliage.
Trailing plants, foliage and flowers such as ivy are great for baskets and, depending on the size of the containers, there's plant-filled cornucopia of grasses, shrubs and blooms to choose from to speedily fill up your garden. This time of year, most garden centres have a fantastic array of plants that are perfectly suited for baskets and containers.
Quick and easy to plant yourself, they're the perfect solution for an unadorned and neglected garden.
---
Clean Outdoor Furniture
There's nothing better on a summer's day or evening than inviting friends and family round for a few hours' relaxing, eating, drinking and entertaining – so make sure all your outdoor furniture is thoroughly scrubbed and washed of any grime, dust and dirt.
For wooden furniture, give it a once-over and then give it a coating of furniture oil to both feed and protect the wood against the sun and weather. And when they're not in use, cover them in tarpaulin to protect them.
---
Service the BBQ
Nothing snaps the taste buds to attention like the wondrous whiff of burgers sizzling on a BBQ – and it's an indispensable part of the summer experience.
In the garden, with burger in one hand and a beer in the other is what it's all about, so wheel the BBQ out from the shed and give it a good scrub and clean ready for a few months of smoking, blistering BBQ goodness.
If you've got a gas BBQ, make sure you've got a well-filled gas canister, or if you've got the traditional version, stock up on BBQ coals and kindling.
Ransom Spares has a fantastic range of garden machinery spare parts and BBQ spares and parts.
By Lee Gilbert
Category: Articles, News & Tips