Weed All About It: Essential Gardening Tool Maintenance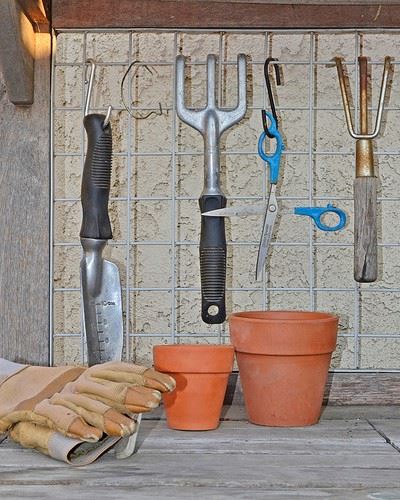 Images by D.Laird
Just as a painter takes care of his brushes and a musician looks after his instrument, so the humble gardener has to devote plenty of tender loving care to his tools. After all, where would the enthusiastic gardener be without those essentials, such as trowels, rakes and shovels?
But these things don't look after themselves and tending your rose gardens and herbaceous borders can be a mucky business, so a few minutes of prudent cleaning and caring will go a long way to ensure you get years of robust and reliable service from all your garden tools.
---
Maintenance
Lawn Mowers
During the spring months, replace the oil and spark plug on your lawn mower – this will act as a service and tune-up. It's also a good idea to clean the filter and have the blade sharpened or, if it's past its best, replaced.
When it comes to mower maintenance, always disconnect the sparkplug lead when you're not using it and run the fuel down before you store it for winter (particularly important for mowers which run on unleaded fuel, as the ignition quality diminishes over time).
Remove any soil and grass from the blades and rollers with a hose and stiff brush; apply some grease to height adjusters and turn them slightly so they won't seize up; have the blunt or chipped blades of rotary mowers balanced or serviced by a professional servicer, and badly worn blades will need replacing.
Other sage tips are to clean out any grass or dust to protect the engine, trickle some general-purpose oil along the throttle and clutch cables to prevent them sticking and top up the oil in readiness for spring. Otherwise, the engine will burn out without enough of it.
Petrol-Powered Tools
Gas-powered tools, including the lawn mower, need special attention and care. To prepare them for the cold winter months ahead, run them until the tank is empty or fill the tank with a fuel stabilizer. Another good tip is to remove the spark plugs, add a teaspoon of oil into the cylinder, turn the engine over a few times and then replace the spark plugs.
Power Tools
There are a few sensible and practical things you can do to keep your power tools in ship-shape.
For example, make sure flexes and plugs are in good order and safe; check plugs – inside and out – for damage and check for wear or cuts; get any damage professionally repaired; prevent metal tools from rusting by lightly spraying them with a light coating of general-purpose oil; spray those more difficult-to-reach blades such as hedge cutters; and turn on the tools to make sure the oil works its way through all the components.
Blades
General usage and natural wear and tear means some tools will become blunt and need sharpening. You can sharpen blunt blades with our fantastic sharpening block, but if they're very badly worn or damaged you should replace them. Consult a qualified repairer if you're not sure how to do this.
Remove any rust with a wire brush and wipe over with an oily rag using general-purpose oil. Blades on shears, forks, spades and other tools will soon rust if they are not given this quick, yet effective treatment regularly.
Handles
Boiled linseed oil is a particularly effective way of treating bare wooden handles, and you can do this by rubbing on the oil with a rag to absorb the first coat before adding more. This prevents the wood from splintering or drying out. If a wooden handles is extremely dirty, use a stiff brush to remove as much soil as you can, or use a damp cloth to gently wet the handle (making sure you don't soak the wood as this will make the handle swell).
---
Storage
Storing Soil and Fertilizer
Make sure you know what you've got and where by labelling and sealing bags of fertilizer and soil. Keep them in a waterproof container or on a shelf away from moisture.
Organise Your Tools
Storage is an essential part of good garden tool maintenance, so hang long-handle tools on hooks or wall organisers – this will prevent them from hitting each other or getting tangled up. Smaller tools such as scissors or pruners can be stored in special wallet-style organisers.
---
Cleaning
Hand Tool Scrub and Scrape
Once you've finished using your shovels, rakes and cultivator but before you put them away, make sure you remove all the dirt and debris from them – scrape off dirt with a knife and remove any mud or rust with a wire brush. After you've used any pruning tools, wipe them clean with an oiled rag. Get in to the good habit of doing this every time you've used them, as a little scraping and scrubbing will ultimately save a lot of hassle.
If one of your gardening appliances ever breaks down, Ransom Spares has a fantastic selection of gardening appliance and machinery spare parts.
By Lee Gilbert
Category: Articles, News & Tips