A Brief History of Henry Hoover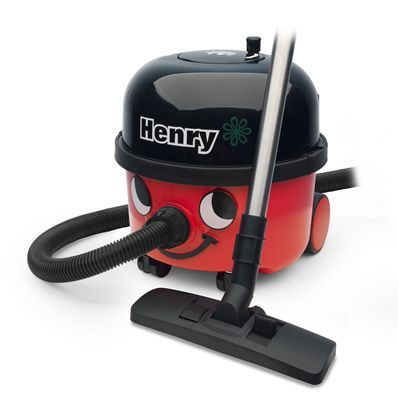 The vacuum is an essential domestic appliance of any modern home – but when it comes to revolutionising the most basic yet essential of weekly chores, no-one has done it better than Henry Hoover.
But the only real way to get to know Henry and how he's given a new, unmistakably smiley face to the world of domestic endeavours, is to look at his origins – and how he's led the world through a vacuuming revolution.
---
A long time ago…
Born in 1981 in the town of Chard, Somerset to the doting family of Numatic Inernational, Henry the Hoover was a spritely, energy baby boy who weighed in at an impressive 6.6kg
But it soon became clear that he was destined for greater things, and his irrepressible smile, combined with a robust body and super suction abilities singled him out as the vacuum of choice for domestic enthusiasts and cleaners across the UK.
Solid, resilient and reliable, Henry Hoover has been known to provide over 20 years of committed and faithful services, cleaning offices, homes and pubs not only all around the country but across the world.
To this day, future generations of Henry Hoovers continue to be born in his original birthplace of Chard, Somerset.
As all good products must, Henry has changed with the times and become green – not in colour (although he does come in green, blue and yellow as well) - but in his capacity to help save the planet. The current Autosave model reduces electricity consumption by an impressively green 50%.
Henry the Hoover is a domestic and cultural icon, a bastion of domestic superiority and a tireless champion for first-class cleaning. Just look at him: those large, innocent eyes, the wide, cheeky smile, and the long, long nose.
---
The Genesis of Numatic
Numatic – based in Crewkerne, Somerset and founded in 1969 - is the extremely proud family of Henry, and they continue to conceive new generations of Henrys in an ever-expanding extended family. Despite their obligation to Henry, they nevertheless find time to manufacture other cleaning machines and products.
Numatic started off as a small group of people who initially specialised in designing cleaners for boilers. At the time, vacuums were comprised of different domesticated products such as oil drums and handles from suitcases. However, Numatic soon realised this approach was becoming outdated and the finger of progress beckoned and this, combined with an increased demand for their products, necessitated the relocation to bigger premises.
---
An unexpected twist of fate
The move meant that Numatic had to find their feet and take the time to develop and grow before it was practical for Henry to arrive on the scene. Its first premises in Yeovil were picturesque but based near a river, which unfortunately swelled and flooded the factory. The team at Numatic nevertheless turned this potentially negative experience into a positive one, resulting in the creation of cleaning machines that work on wet surfaces.
Numatic moved to Beaminster, Dorset, where they stayed for 20 years before relocating to Chard, Somerset, where they remain today, having expanded to become an international market leader.
---
When was Henry born?
Henry came into the world in the Beaminster, Dorset factory in 1981. Since he was first introduced into the vacuum market, Henry has brought domestic joy to the lives of over a million people – a superlative achievement and a popularity that hasn't declined.
---
Does Henry have any siblings?
Yes, he does. In fact, Henry has four brothers and a sister – James, Charles, George, Harry and Hetty. All of them are variations on the original Henry model, whilst Charles also works on wet surfaces, as does George, who is also capable of dry vacuuming and carpet cleaning.
Henry is the unrivalled pinnacle of vacuuming excellence. He's grown from boy to man, tirelessly waging his crusade for better, cleaner world and leading the way in domestic appliance design and innovation.
He truly is the nation's favourite vacuuming companion.
Ransom Spares has a fantastic range of Henry Hoover spares, part and accessories in stock.
By Lee Gilbert
Category: Articles, News & Tips