Washing Machine Repair Blogs - Help, How Tos & Advice
Released On 5th Aug 2015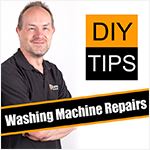 There's nothing more frustrating than a broken down appliance – and if you've ever tried to hand-wash a towel, you'll know that a faulty washing machine is one of the most annoying (and painful) breakdowns of them all.
If your Hotpoint washing machine has seen better days, it can be tempting to head straight to the phone to call out a repairs company. But wait – with a little bit of expert advice from the Ransom Spares appliance gurus, Kevin and Tony, you can fix the most common problems yourself.
They've been pretty busy inventing a fridge that can also be used as an oven. However, they're never too busy to help rid the world of appliance meltdowns. Here are their Hotpoint washing machine repair tips.
Tags: Washing Machine Blogs