Vacuum Cleaner Repair Blogs: How Tos, Help & Advice
Released On 15th Sep 2015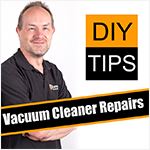 Has your vacuum cleaner lost suction? Or stopped working entirely? A broken down appliance is always frustrating, no matter what it is.
Luckily for you, Ransom Spare's appliance repair experts Kevin and Tony are back again – with advice to help you end your vacuum-related nightmares.
They've been pretty busy inventing a vacuum cleaner that can also be used as a spaceship. But they've always got time to solve some appliance woes.
Here are their expert tips.
Tags: Vacuum Cleaner Blogs
Released On 1st Sep 2014

The Road to Suck-cess: Essential Vacuum Maintenance Tips Image by Jessica Spengler Where would we be without the vacuum cleaner? It's a gliding, sucking, dirt-busting bastion of the mode... Read More

Tags: Vacuum Cleaner Blogs
Released On 22nd Apr 2014

A Brief History of Henry Hoover The vacuum is an essential domestic appliance of any modern home – but when it comes to revolutionising the most basic yet essential of weekly chores, no... Read More

Tags: Vacuum Cleaner Blogs