6 Quick and Easy Ways to Boost Your DIY Confidence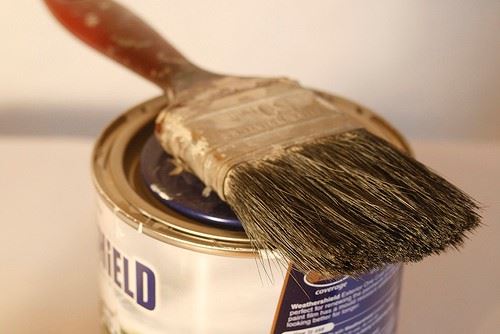 Image by alan cleaver
As a nation, we've always had a somewhat ambiguous relationship with DIY. On the one hand, we can be fixated with MDF and Dulux to the point of OCD. On the other, we've single-handedly exacerbated the myth of the bumbling Brit who can't tell a screwdriver from a spirit level.
The proliferation of programmes, such as DIY SOS and Kirsty's 'Redecorate Your Entire House For £2.50' have unquestionably stoked the UK's interest in getting creative with the paint brush and tackling those essential DIY chores yourself.
But we're not all blessed with the confidence of Tommy Walsh or Carol Smillie, and have to take more tentative, cautious steps to build up our DIY confidence.
So while you won't be fitting a new set of windows or knocking up an extension as your first project, there are a few relatively easy DIY jobs you can undertake to become more self-assured around the home.
---
Repaint a Room
Every room needs a fresh lick of paint every few years, and it's a simple task that you can usually do in a day.
Choose the desired colour and make sure you've got the right type of paint. If you're painting the kitchen or bathroom, remember the paint has to be able to withstand the humidity and heat – in this case, vinyl silk emulsion is a good choice.
Good preparation is the key to a satisfying finish, so before you start fill in any cracks with filler and rub it down when it's dried. Make sure the paintwork and walls are free of dust and wash them down with soap and rinse with clean water. Once you've covered your furniture to protect it you're ready to start painting.
Start with the ceiling, the move on to the walls and woodwork. Very often one coat isn't enough to achieve a fully satisfying finish, so you may have to apply a second.
---
Change Light Fittings
With such a tempting cornucopia of lighting styles and designs available, it's natural to want to experiment with different lighting approaches.
But whereas you might have thought changing light fittings or generally anything of an electrical nature was the dominion of a professional electrician, the reality is that it's easier than it looks – and that means doing it yourself will boost your confidence even more.
With a bit of research you can change your own light fittings - although if you feel uneasy about the task then it's best to call in a professional electrician.
---
Clean the Grout in Your Bathroom
For a room that's intended to keep you clean, it's surprising how grubby and dirty the bathroom can get.
The grout in the bathroom is porous so it easily absorbs all the grease, dirt and chemicals from the shampoos and soaps. Cleaning the grout itself is a somewhat slow, arduous and labour-intensive task - but it's all worth it when you see your bathroom restored to all its shiny, sparkling glory.
Use a toothbrush – an old one, not your partner's – and a cleaning solution, preferably one with anti-mould ingredients, to scrub away at the grime. Open the windows to sufficiently ventilate the room as some cleaners and fumes can be toxic. If this doesn't work, buy a grout remover and carefully remove the grimy grout and apply a new top coat of it.
---
Lay a Wooden Floor
Wooden floors are becoming increasingly popular as they not only look fantastic but they're easy to clean and maintain. It might seem like a herculean task, but if you're equipped with basic DIY skills then laying a wooden floor is relatively straightforward – as long as you're prepared to plain, work methodically and, most crucially, be patient.
Once you've selected the wooden floor you want – and there are hundreds of types available - lots of them simply click together resulting in a fantastic finish. However, before you start do a quick recce to make sure you have all the tools you'll need to get the job done:
Measuring tape
Dry erasable marker
Reversed jigsaw blade with teeth pointing down
Undercut saw
Tapping block and pull bar
Also make sure you've got the correct underlay. In addition, you'll need to decide which way you want the floor to run.
Best advice is to follow the manufacturer's instructions (many boards have simple locking mechanism to join the boards together), and you'll most likely need to cut the final boards to fit properly and re-apply the skirting board.
---
Put Up Shelving
There's no better way to maintain some kind of order and organisation in a house than with some decent storage shelves. There's an eye-popping selection of shelving available, including wood, glass or MDF, which you can buy ready-made or the materials for your personal bespoke fit.
First thing's first, though, so before you start hanging the shelves you'll need to establish what type of walls you have. Concrete and brick will need heavy duty wall plugs; stud walls will require hollow wall fittings or you can screw into the stud.) It's worth spending a bit of extra cash on good quality fittings.
Also establish if there are any cables or pipes in the wall – you can buy a tester for this – so you can mark the position of the brackets with a spirit level, drill the holes, and mount the brackets with the screw or plugs, and finally the shelf itself. Don't forget screw the shelf to the brackets to ensure extra rigidity.
---
De-clutter Your Home
Nobody likes a messy home, especially unsightly clutter such as piles of old TV guides and a week's worth of abandoned pizza box – and cleaning up those errant items of flotsam and jetsam is perhaps the easiest DIY task you can do. Clutter makes a home not only look smaller but also more uncomfortable.
Once you get bitten by the de-clutter bug, it's easy to get carried away, so try to curb your enthusiasm and tackle rooms individually rather than trying to spruce up the entire house in one go. Work in one area and don't tidy up for more than an hour or two – overdoing it will soon diminish any enthusiasm you had for the project.
When you've conquered one room, you can stand back, admire your handy work – and move onto the next.
By Lee Gilbert
Category: Articles, News & Tips