How to Make Sure Your Oven & Other Appliances Don't Ruin Your Christmas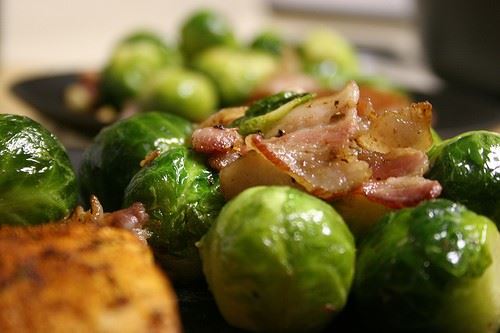 Image by sling@flickr
The first mince pies might have sneakily crept their way onto the supermarket shelves in July, but there's no denying the festive season is now well and truly upon us.
And with untangling the fairy lights, preparing the inevitable sprouts, purchasing the obligatory tin of Quality Street, and wrestling with the lumbering hordes of demented Christmas shoppers, you don't need to add anything else to your yuletide stress list.
With household appliances such as the oven and dishwasher getting a particularly gruelling workout over the season of goodwill, you'll need to minimise the risk of them breaking down.
Here, then, is our indispensable guide on how to do just that.
---
The Oven
Christmas is a time for celebrating. And eating. Lots of eating. The oven will get a lot of use to warm up the mince pies and cook that all-important turkey. Keep your family happy and well-fed by keeping the oven working.
Element
The element is one of the most common parts of the oven that needs to be replaced on an electric oven. This is reasonably straightforward to do and you can see exactly how to replace an oven element here.
The most common indicator the element isn't working properly is that the oven's not heating properly or at all, or that you can see patchy/bright spots on the element.
Thermometer
An indisputable must-have, especially if you're cooking the traditional festive bird or any other foods that necessitate a specific, regulated cooking temperature.
Door Seal
The most likely reason for your oven not hitting the required temperature is that there's an issue with the door seal To ensure you don't leave your family blubbing into their eggnog and Brazil Nuts, you can watch how to change the door sea; here.
You might also spot that the oven's door knobs are melting. This, again, will more than likely be the direct result of a faulty seal and the heat escaping from the oven and melting the knobs.
Meat Thermometer
You can't take any risks when it comes to cooking meat, so when it comes to cooking this year's eye-poppingly sized, mouth-wateringly tasty turkey, you'll need a meat thermometer to ensure it's cooked all the way through.
The meat thermometer should be inserted into the thickest part of the turkey, between the thigh and the body, and the ideal cooking temperature is 82 degrees Celsius (180 degrees Fahrenheit). When the juices of the turkey run clear, you know it's cooked properly and all the way through.
Cleaning the Oven
After the full-on festive assault, giving your oven a thorough clean can be something of an invidious and herculean task. You can watch how to clean your oven with professional oven cleaner here.
Make More Space
Without doubt you'll be cooking more yuletide yummies over the festive period, so you'll need to maximise your oven space.
You can get more space out of your oven with an extendable oven shelf. An extendable baking tray is also perfect for cooking a turkey.
---
The Dishwasher
Another appliance festive favourite that will get an extra vigorous workout, you'll want to ensure the dishwasher is suitably prepped and ready for some extra action.
It Won't Clean
A dishwasher not cleaning properly is usually the result of a few simple things you can fix yourself. To see some of the most common problems and how to repair and replace certain parts, look at our DIY dishwasher repair resource.
Common Dishwasher Faults
Some of the most common dishwasher faults include faulty door seals, damaged wheels and broken cutlery baskets. Don't fall foul of a faulty dishwasher this Christmas (or have to resort to whipping out those long-abandoned marigolds), and make sure it's in reliable working order.
Cutlery Basket
One of the most frequent replacement items, it's easy to find a suitable cutlery basket for your machine. And you can't find the specific one that matches your model, universal baskets are also available.
Dishwasher Wheels
A component that's absolutely essential for the smooth-running of your machine, dishwasher wheels are usually pretty easy and generally inexpensive to replace. Watch our step-by-step guide to replace the dishwasher wheel.
Dishwasher Door Seal
The most obvious sign the door seal is faulty is that water will leak from the front of the machine. The majority of modern dishwashers have two seals – an upper 3-sided seal (reasonably straightforward to repair), and a lower/bottom seal (bit trickier). It's a good idea to check and make sure both are fully intact - or replaced if necessary – before the Christmas holidays. See our range of dishwasher door seal spares and parts.
---
Fridge Freezer
From the selection of cold means for the Boxing Day buffet to the obligatory, extra-large slab of festive Stilton, you'll need to make sure the fridge freezer is ready to take on an extra load of merry treats and beverages.
It's All About The Space
The drink usually flows during the Yuletide season and wine is a popular tipple, so it makes sense to invest in a wine bottle rack. Not only are they easy to fit, they also free up lots of space and alleviate any unnecessary stain from the existing racks.
A Thorough Clean-out
Keep the fridge clean to avoid contaminating any food.
---
Washing Machine and Tumble Dryer
Lose The Limescale
Limescale and detergent will build up over time, and it's crucial you get rid of it so your machine will not only operate effectively, but minimise energy costs. The most effective way to combat limescale and detergent build-up is with limescale remover.
Stop the Leaking
Any machine leakage will need to be fixed immediately as it could potentially cause even more damage. The most common causes of a washing machine leaking include:
Leaking from the soap drawer
The water pressure is too high
Leaking from the filter
Leaking from the drain pipe
Leaking from the pump
Watch our DIY washing machine repair videos.
With those checks done and with your appliances in tip-top, fully-working order, you can cook, store and clean to your heart's festive content.
From the team at Ransom Spares, we wish everyone a very Merry Christmas and a Happy New Year.
By Lee Gilbert
Category: Articles, News & Tips