History Of The Lawn Mower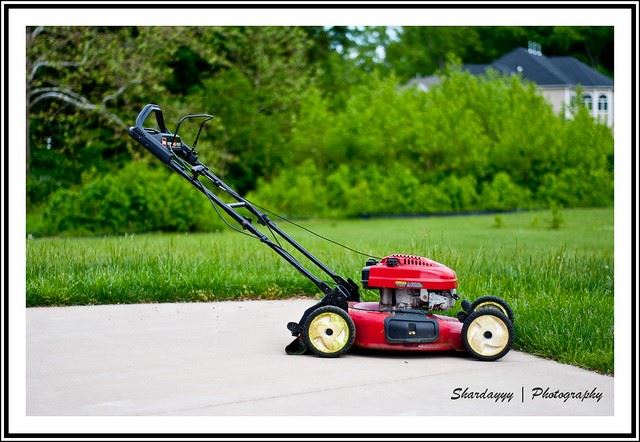 Image by Shardayy
The Seed Is Sown
Invented in 1830 by Stroud engineer, Edwin Beard Budding, the idea came to him after seeing a cloth mill machine that used a cutting cylinder to trim cloth but left a clean finish. He realised that the basic concept could be adapted to cut grass if a similar mechanism was mounted on a wheeled frame to let the blades rotate to cut the lawn.
Going into partnership with local engineer, John Ferrabee, they manufactured their own mowers from a factory in Stroud. (These early mowers can still be seen in the Stroud Museum.)
The original mowers were made of cast iron, and comprise of a large rear roller and a cutting reel at the front; cast iron gear wheels generated power from the roller to the cylinder. As an overall design, these mowers bear a pretty close relation to their modern counterparts.
Budding and Ferrabee made a shrewd and canny business move, and allowed other companies to replicate their basic mower design under license. Some of the first of these were produced by a company called Ransoms, based in Ipswich, which began manufacturing them as early as 1832.
From Grass Roots To Bigger Things
Budding's original patents had lapsed by the 1850s, however, leaving the market wide open for other companies and manufacturers to make their own machines. One of these companies was Thomas Green and Son, based in Leeds, who introduced a mower called the 'Silens Messor ' (literally, silent cutter) – this design used a chain to generate power to the rear roller and cutting cylinder, and was lighter and quieter than previous mower incarnations.
Almost parallel to the release of this new model was a design manufactured by Alexander Shanks in Albroath, who released the imposingly titled Automaton. These mowers were available with either chain or gear drive, with the optional extra of a grass collection box.
Give or take various small modifications and sizes, this particular mower model was successful and in production well into the 20th century.
Stateside Success
In terms of the evolution of the lawnmower, the next big innovation was the side wheel machine. Invented in England, they were particularly popular in North America as their grass is coarser than the UK's.
The new model worked with cast iron wheels at each side, driving the cutting cylinder through a means of ratchets. Not having metal rollers meant they were both light and inexpensive to manufacture – and this ensured their popularity across the globe.
Petrol Power
In the 1890s the first motorised mowers appeared in the form of lightweight petrol engines and steam power units. Initially, people preferred the steam mowers, but the turn of the century saw petrol engine mowers taking the advantage.
1902 saw the introduction of a petrol engine mower by manufacturers Ransomes, Sims and Jefferies – and led the market until the outbreak of World War I.
The period succeeding the First World War saw a phenomenal growth in lawn mower manufacturing, primarily due to more advanced technology, a need for peacetime products, and people's relocation to surburban houses with small gardens.
The Grass Is Greener
Launched in 1921, the Atco lawn mower was an instants success. Costing £75, only 900 machines were made – yet within five years, annual production had increased into the tens of thousands. With a variety of sizes available at affordable prices, it paved the way for the first truly mass produced lawn mower.
A brand now synonymous with lawnmowers is Qualcast, which established itself as one of the product's main players in the 1920s and 30s. They sold in their millions, particularly the E side wheel and Panther roller mowers. They cost just a few pounds and provided the public with a reliable and economic mower.
Technology Advances, Prices Come Down
What seems as contemporary lawn mowing ideas such as rotary cutting and electric powered motors were tried out in the 20s and 30s, although their popularity didn't flourish until much later.
Gradual shifts in technology and changes in design and more powerful petrol engines in the 30s and 40s meant that, by the 50s, lawnmowers had become inexpensive, reliable and commonplace in most households. And the incorporation of plastic parts and components in the 60s reduced costs even more.
A Rotary Revelation – And Lawnmowers Today
Perhaps the most significant lawnmower innovation of the past thirty years has been the rotary hover mower – a design that has been made possible and practical through its combination of lightweight plastics and high-power, lightweight electric and petrol motors.
Flymo – another brand leader in the lawn accessories market – unleashed the first hover mower to the unsuspecting masses in the early 60s; their original colours were blue and white, as opposed to the orange designs more commonly seen today.
Many old lawn mower manufacturers have closed down, gone out of business or merged with other companies, with the leading brand names in lawn mower technology being the aforementioned Qualcast and Flymo.
Occasionally however, lawnmowers can break down and things can go wrong with them, so if you need any spare parts for your lawn mower then Ransom Spares will be able to help.
By Lee Gilbert
Category: Articles, News & Tips