History Of The Dishwasher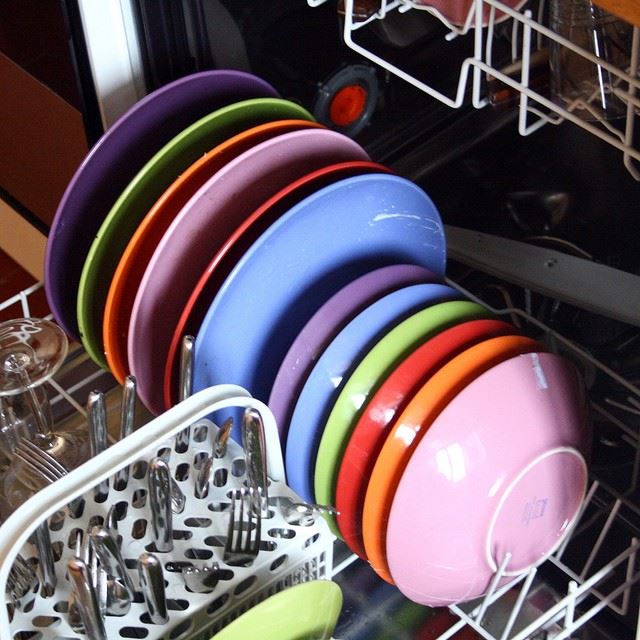 Image by andrea castelli
Let's face it, when it comes to washing up nobody's hurling themselves at the kitchen sink in a desperate clamour to clean the dirty dishes. It's a chore and a bind and, even with no-nonsense vigour and cleaning power of the scouring pad and the myriad of grease-busting washing up liquids, it's still an unpleasant task.
All hail, then, the dishwasher – saviour to the masses and many a kitchen. Here's a brief history of their revolutionary genius.
Early Incarnations
The idea that dishes and cutlery could be washed by a machine was realised with a man called Joel Houghton in 1850. He patented a wooden machine that comprised of a hand-turned wheel that simply splashed water on dishes. It was basic and simplistic and a far cry from what you could legitimately call a workable machine, but it did the job.
The basis of his idea and invention led to a snowball effect of pretty quick advancements. In 1865, for example, a patent was granted to L.A. Alexander for a device that used a system of hand cranks and gears to spin dishes on a rack through water.
These early attempts were pedestrian attempts at best, and really weren't that successful at getting the dishes spotlessly clean.
A Dishwashing Breakthrough
This led a somewhat exasperated Josephine Cochrane to exclaim: "If nobody else is going to invent a dishwashing machine, I'll do it myself." True to her word, this is exactly what she did. Ironically, she was a wealthy woman who had a throng of servants wash her dishes for her – but she wanted something that could do the job more expediently and without smashing or breaking a lot of her fine crockery.
Her system for creating her dishwasher was a practical one: she measured her dishes and created compartments so they fitted in. A motor turned a wheel that squirted hot, soapy water onto the dishes. Unveiled to a wowed public at 1893s World Fair in Chicago, it won a accolades and awards.
The popularity of her dishwashing machine led to requests and orders from hotels and restaurants in America. The design was eventually patented and her company went on to become what is now known as the kitchenware manufacturer KitchenAid.
Following In The Footsteps
The success of Cochrane's radical and revolutionary dishwasher led to a raft of other companies all keen to follow in her footsteps. Taking her basic model, they created appliances powered by steam that passed dishes under jets of hot water on a conveyor belt or spinning basket.
However, it wasn't until the 1950s that dishwashers became smaller, practical and more affordable, and became a realistic prospect for the general public.
Building On The Design
Dishwasher models fitted with a permanent plumbing system arrived in the 1920s, but it wasn't until 1937 when William Howard Livens invented a dishwasher that was small enough to be suitable for the average home.
The features of Liven's version of the dishwasher had all the features of the majority of the models on the market today, including a front door for loading, wire rack to hold the crockery and cutlery, and a rotating sprayer.
It wasn't until 1940, however, that electric elements designed to help dry the crockery were incorporated into the design.
Its Popularity Continues
Probably unsurprisingly, commercial environments such as restaurants and hotels were the first to fully embrace the money and time-saving potential of the dishwasher. By the 70s, however, they had become commonplace and regular appliances in households.
Brand Leaders
As with all products, there are certain brands synonymous with a particular type of product, and the dishwasher is no exception. Its earliest brand incarnations were Fisher & Paykel, a company which revolutionised and realised the true potential of the dishwashing market with its Dish Drawer. KitchenAid, Kenmore Elite, and Jenn-Air were also companies vying for attention in the dishwasher market.
Today, the most common brands of dishwasher are Bosch, Hotpoint, Siemens, Whirlpool and Zanussi.
There's no question that the dishwasher has revolutionised the way we work within the kitchen environment. And whilst the variety of shapes, sizes and levels of functionality across all brands and models can be quite mind-boggling, the ultimate purpose of these fantastic machines remains the same – it means we no longer have to do the washing up unless by choice!
Remember, spares, parts and accessories for all the major brands of dishwasher can be found on our website!
By Lee Gilbert
Category: Articles, News & Tips