Getting Your Appliances Ready For The New Year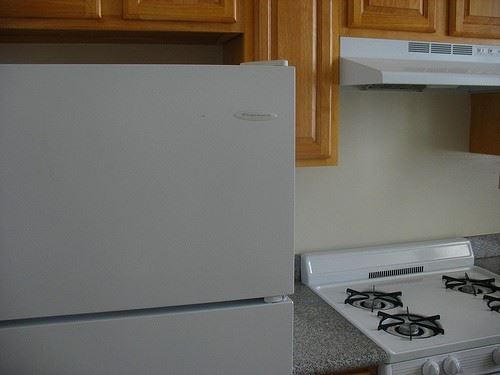 Image by Orin Zebest
New Year is a great opportunity to make a fresh start and conjure up a few well-intentioned resolutions (whether you stick to them, of course, is a whole other box of pencils).
But while you're busy considering ways to improve your health or be a better person, the month of January is also a good – and often much-missed – opportunity to get your household appliances in ship-shape. After all, the cooker, the dishwasher and the fridge need as much new year TLC as you.
Having shaken the hangover and got your head around the fact another year has passed, here are some easy maintenance checks you can do to help minimise the risk of any inconvenient appliance problems.
The Cooker
The cooker is an appliance that would have suffered a good ol' festive pummelling throughout December. So now this hot haven of food-based heating is free of turkeys, roast potatoes and sausage rolls, January is an ideal time to give a no-holds-barred, full-on clean.
Give it a thorough scrub to remove any grease, grime and burnt-on dirt. And while you're at it, keep an eye out for any wear and tear, such as loosening door seals or poorly-fitting hinges. Fixing minor problems like these are relatively straightforward and can help to prevent bigger issues in the future. If you need to buy cooker spare parts, make sure you make a note of your cooker's model number.
The Dishwasher
Another victim of a seasonal thrashing, there are a few things you can do to keep it running smoothly and churning out those shiny white plates. In the post-Christmas lunch scrum – bloated and somewhat lethargic with roast dinners and mince pies – you might have been tempted to cram the dishwasher with a few too many plates. Well, an extra few plates won't hurt, will they? Wrong.
Overloading the dishwasher is a sure-fire way to break it - so make sure you haven't broken the basket wheels and that the racks pull off easily and smoothly. Double-check the cutlery baskets too, as extra holes can be created by cramming them in or incorrectly positioning them.
Dishwashers are also frequently beset by the hideousness of limescale – generally only problem if you live in a hard water area where water contains a greater amount of mineral deposits, but which can coat inner parts of the dishwasher like the heating element. A build-up of limescale can reduce the efficiency of the dishwasher and, if the problem isn't rectified, ultimately cause it to stop working altogether.
Washing Machine
Also at risk from the harmful effects of limescale is the washing machine. That said, there are several other issues that can affect your washing machine's performance, such as holes or cracks in the washing machine door seal, which is a rubber gasket that fits between the machine door and cavity.
The door seal can wear out over a period of time and prevent it being water-tight. A cursory glance should make identifying any holes easy, and water leaking down the front is generally a sign the seal needs replacing. Also keep an eye on the connecting hoses and detergent drawer, as these are also easily susceptible to damage.
The Fridge
The white good bastion of all things freshly chilled, the fridge is one of the most often-used appliances of the modern kitchen. Being the refrigerated safe haven for a panoply of fruit and veg and the essential butter and milk, it needs to be kept clean and hygienic at all times.
One basic thing to do on a regular basis is to remove the shelves and drawers and clean them thoroughly – and don't forget the door seal and wall of the fridge. The folds and creases in the door seal can be a breeding ground for all kinds of bacteria and unpleasantness if not properly maintained and cleaned.
Equally important is how to effectively facilitate your fridge space, and there are few ways you can do this, such as using extra shelves and wine racks.
Cooker Hood
Perhaps not the most obvious things to check as part of a New Year once-over, but cleaning the cooker hood to remove food marks and grease will eliminate the spread of cooking odours and unpleasant smells from your home.
Whilst cooker hoods contain filters that absorb the grease and smells they can very quickly become saturated and need replacing – every five or six months is a good recommended guideline. And if you own a stainless steel cooker, a smart move is to invest a high quality cleaner to remove and prevent finger marks and scratches.
Tumble Dryer
In the absence of draping your freshly-washed pants and socks on the line in the summer sun, the tumble dryer is another appliance guaranteed to get a bit of extra winter action. Tumble dryers contain a lint or fluff filter which, if allowed to clog up, could cause it to overheat.
Make sure you clean the filters regularly and, if they're damaged, replace them. True, tumble dryers are expensive to run and eat up electricity like it's going out of fashion, but during the winter you haven't got much choice.
As well as keeping your daily kitchen appliances well maintained and ready for the onslaughts of the year ahead, don't forget about the vacuum cleaner (regularly changing the bag, replacing the filter every five to six months), and keeping an eye on the household electricals (kettles, deep fat fryers).
These tips will help to stand your household appliances in good stead for the next 12 months, but each kitchen lover has their own personal favourite maintenance tips. If you're one of those then please feel free to share below in the comments section.
By Lee Gilbert
Category: Articles, News & Tips