Battle of the Appliances: Gas Vs. Electric Cooker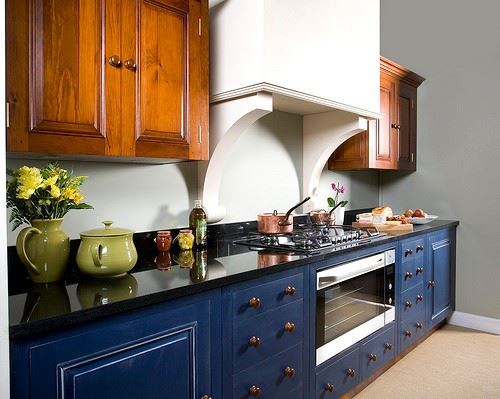 Images by ChalonHandmade
Cooking is a very personal activity. We all like things cooked slightly differently – whether it's down to our individual taste buds, cooking style, or simply the amount of time we want to spend preparing our dinner. So it's not surprising that the energy we use to cook with is also a very personal choice, with many people devout advocates of their chosen appliance.
That's why we thought the oven should be next up for our 'Battle of Appliances' series. When it comes to making a decision, it depends what you want from a cooker. Here, we compare gas and electric on performance, running costs, maintenance, safety and carbon footprint:
---
Electric Cooker
Pros:
The fan in an electric oven distributes the heat evenly and makes it easier to control the temperature. For this reason, many people believe electric ovens are the best for baking cakes, although a gas oven with a convection fan can also produce great results.
A big plus for any time-strapped chefs is that it's really easy to clean the hobs of an electric cooker, as the surface is so smooth – one simple wipe will usually do the trick!
Cons:
According to Which, it costs (on average) £37 more per year to run an electric cooker compared with a gas cooker. Electric cookers may use fewer units of energy to produce the typical meal but electricity costs more than gas per unit, so it works out more expensive. What's worse is that experts have warned that in the long-term, the cost of electricity will rise faster than gas, due to the green taxes on electricity.
While it may be easier to control the temperature of the oven, it's harder to control the hobs – they are not as responsive as the flames of a gas cooker.
If your pan is bigger than the hobs, it can take a long time for the saucepan to heat up.
---
Gas Cooker
Pros:
What makes gas cookers a firm favourite among foodies and chefs is the amount of control the hobs give you when you're cooking. The flames of a gas hob respond instantly when you turn the heat up or down and it's easy to see how hot the hobs are in a hectic kitchen, simply by looking at the size of the flames.
If you're looking to save money on your bills, gas cookers are cheaper to run. The average gas cooker costs just £16 per year to run, compared with a bill of £53 for an electric cooker.
For keen bakers, it's worth remembering that gas ovens create a more humid baking environment, which is great for baking bread and pies.
Gas cookers are also more environmentally friendly, producing just 109kg of Co2 per year, compared with 222kg of Co2 produced by electric cookers.
Cons:
Gas ovens don't often have fans to distribute the heat, so they can cook unevenly.
It's harder and more expensive to install gas cookers because you need a Gas Safe Registered engineer.
The naked flames of the hobs are more dangerous if you have kids, pets, or are just clumsy in the kitchen.
---
Whether safety, cost, performance or environmental concerns are your priority, hopefully this guide has shown you which cooker is right for you. You can of course try to get the best of both worlds with a duel cooker (with gas hobs and an electric fan oven).
Whatever you go for, if your cooker becomes faulty, we have a great range of spare parts for all the major brands.
By Lee Gilbert
Category: Articles, News & Tips